Frequently Asked Questions
---
Please note, we do our best to capture and distribute podcasts, but occasionally podcasts may not be available due to operator error or hardware failure.
---
What is a podcast?
A podcast is a series of recordings that you can download to a computer, smartphone, or any media player for later use. You can even automatically download new lectures as they are published by subscribing to iTunes.
See a complete description about podcasting at Wikipedia.
Is this free?
Yes, there are no charges to faculty or students for podcasts.
Who do I contact if I have podcast issues?
For classroom assistance, contact Classroom Support at (858) 534-5784, classroom-support@ucsd.edu

For signup and scheduling questions, contact ITS: (858) 822-3315, edtech@ucsd.edu
What if I only want to podcast specific days?
If there are specific class dates that you don't want podcast, please email edtech@ucsd.edu and they will stop the recording on that day. You can also leave the wireless microphone off and no audio will be recorded.
How do I sign up?
If your course is scheduled in podcast-ready lecture hall or classroom, you can sign up for the Podcast service by signing the Podcasting Agreement.
Is a smartphone required for playback?
No. Most students will view podcasts using their web browser. Students can use any media player that supports podcasts, such as iTunes, to automatically download lectures to their computer, phone, or media devices.
How do students find podcasts?
Students can view or subscribe to podcasts at Podcast.ucsd.edu
How soon is the podcast available?
Usually within 5-10 minutes of the lecture ending.
Who can access my podcast?
When you request podcasting, you may elect to limit access to students enrolled in the class. Podcasts not restricted thusly may be viewed by anyone who visits the Podcasting website.
How long does my podcast remain available?
The files will be available until the end of the quarter. You may elect to leave them online indefinitely on the Podcast Agreement.
Can I request to have a podcast removed?
Yes. Please send your request to edtech@ucsd.edu.
Why don't I hear the movie audio?
In many classrooms, if you play a movie or audio clips through the Media Station during class, audio will not be recorded. Your podcast will have silent spaces where movie is being played.
What is required to create a podcast?
Ensure your class is scheduled in a podcast-ready lecture hall. To sign up for the Podcast service, please sign the Podcasting Agreement.
What rooms are podcast-ready?
View the Classroom Details for Podcast-Ready Rooms to see which rooms are podcast-ready, as well as to learn about other room attributes such as environment (windows, darkenability, ventilation) and available equipment.
Additionally, the full list of podcast-ready classrooms and lecture halls can alert you to which rooms will incur a delay before podcasting can begin, as some podcast-ready rooms need some equipment installed before they can be used.
What microphone should I use?
Use the yellow wireless microphone that is located inside the Media Station in order to be recorded. The wired microphone connected to the wall is not connected to the recording device.
Where should I clip the microphone?
Clip the wireless microphone to your collar about 8 inches from your mouth.
Try to clip it right in the center, and not to the side.
How do I start recording?
You don't need to do do anything special. Just put on your microphone and transmitter as usual. Recording will start at the lecture's scheduled start time and stop at the scheduled end time.
How do I get the start time right?
Your podcast starts at the beginning of your scheduled lecture time regardless of when you turn the microphone on. The podcast start time will most closely match with your cell-phone time, not the clocks in the lecture halls (which are sometimes a few minutes off). The recording will stop at the end of your scheduled lecture time regardless of when you turn the yellow wireless microphone off.
I go over the end of lecture - how can I record longer?
Contact edtech@ucsd.edu, and we can schedule future recordings to continue a few minutes longer.
What do the lights on the microphone indicate?
The light on the wireless microphone will be green when the battery is good and red when the battery is low. When the light is red, please feel free to change the battery. There are new batteries available inside the Media Station, and battery recycling on top of the Media Station.
What if my voice is not loud enough over the room speakers?
Please do not adjust the volume control on the wireless microphone. The volume level for the podcast is preset. If you feel your voice over the room speakers is not loud enough, please call the Media Services' Help Desk at 534‑5784 and we will send a technician.
How do I know if the mic is working in a small classroom?
Many small classrooms do not have a voice amplification system. In those rooms, you should find an audio level meter, either on the microphone, media cabinet, or AV control panel, that will show how loud your voice is.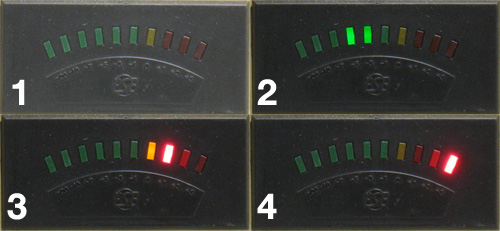 Meter at rest; microphone turned off. The normal range (-20 to –3 db) is green. Zero is yellow. Peak and overload range is red.
Normal level (in the green)
Brief peaks (occasional yellow or red; level not hot enough to cause distortion)
Overload (audible distortion likely)
Microphones typically have a narrow band that shows how loud your voice is. As you talk, it should stay within the middle half of the band.